Leading Italian testing, inspection and certification company reaches key synergy milestone for industrial and infrastructure markets.
TÜV AUSTRIA Italia put its mark on Italy's industrial sector when it introduced acoustic emission testing during the 2000s. The revolutionary non-invasive inspection technique both gave TÜV AUSTRIA Italia's clients a competitive edge and established TÜV AUSTRIA's subsidiary as a forward-thinking innovator of safety technology in Italy. Now in the 150th anniversary year of TÜV AUSTRIA Group, TÜV AUSTRIA Italia delivers testing, inspection, certification, lab and training services from Turin to Brindisi. General manager Crescenzo Di Fratta, renowned materials testing engineer, has an additional milestone to celebrate, the full acquisition of ICEPI, the Piacenza-based machinery, pressure equipment, elevator, ground inspection and lightning protection and lab services expert by TÜV AUSTRIA Italia.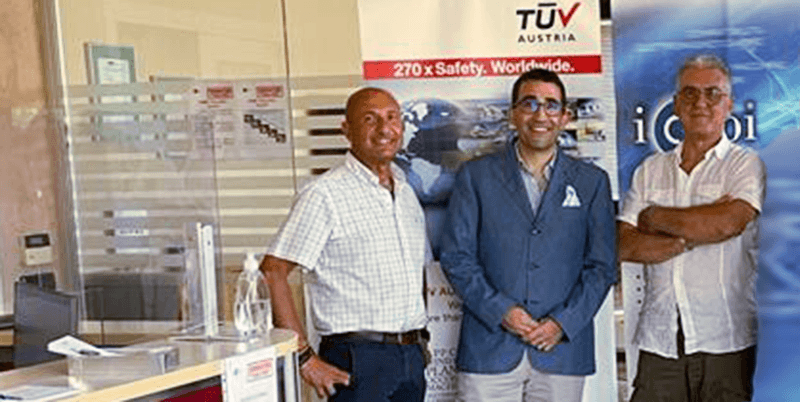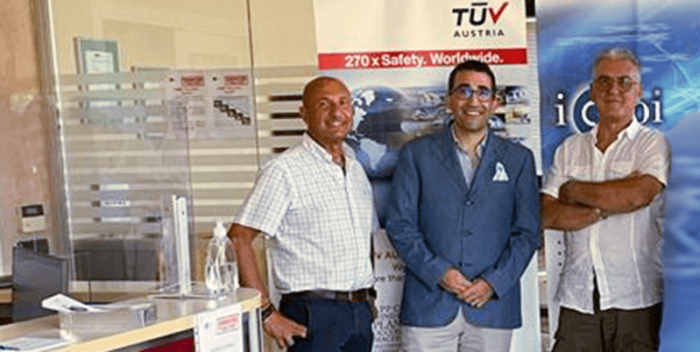 "Safety and security is an integral need of society. It is therefore with great pride that we announce the full integration of ICEPI's vast array of competencies into our Italian portfolio", Crescenzo Di Fratta (center) explains. Always keenly focused on supporting businesses, especially in these economically taxing times, Di Fratta has been expanding TÜV AUSTRIA Italia's footprint horizontally as well as vertically.
"As part of TÜV AUSTRIA Italia's solutions catalogue, ICEPI's lab infrastructure and wide-range of testing methods, inspection and certification services, are now readily and fully available from the north of Italy to the south – in a more integrated way as well as to international clients", Crescenzo Di Fratta states. Coming off the record 15.000th acoustic emission test in 2021, TÜV AUSTRIA Italia recently added elevator and work equipment inspections, and bolstered its certification business. While it is a larger and growing company, Di Fratta admits, TÜV AUSTRIA Italia has never been more flexible and agile in terms of servicing customer needs.
"TÜV AUSTRIA was founded to keep advancing safety technology for the safety of industry and society", Crescenzo Di Fratta reflects, stating that the group of companies has been accompanying ever technological revolution since the invention of steam power. "Our commitment today far exceeds testing and inspection", Di Fratta argues, "Like all subsidiaries of our Austria-based group of companies, TÜV AUSTRIA Italia today is your end-to-end partner in safety, in security, in certification and education."